POET PIRATE NETBOT: RUMINATIONS ON THE UNDERTAKING OF EXCESS INFORMATION
Funded doctoral research on exploring cultural conditions in contemporary online information environments. This research approaches the topic of digital writing by focusing specifically on spam email to understand the broad implications of high volumes of unsolicited commercial and bulk information in the channels of personal literate communications. While touching on several areas of significance, my research is rooted in a need to understand how, from a perspective of education, we might educate with sustainable textual practices that are in tune with contemporary digital culture.
To introduce these concepts, and reference a few writers speaking to the broader discussion of how authoring has changed in recent years, you may visit a powerpoint presentation of the 2008 Congress of the Humanities conference held in the same University out of which this research was conducted.
THE POET, THE PIRATE, AND THE NETBOT ON A JOURNEY ACROSS THE OCEAN OF INFORMATION (click for online presentation)
In this presentation I've laid out some basic points about navigational styles, aesthetic choices, technological author-functions, the cultural commons and intellectual property. I am working my way through an analogy, that navigational styles are to information what learning styles are to knowledge. Moreover, it's not one or the other; instead, this analogy suggests a paradigm shift from knowledge-based acquisition to information-based sharing, and the changing roles that producers and consumers of information are compelled to play. Human populations have witnessed unprecedented automation of communications systems, altering the exchange value of texts and the social and cultural spheres they influence through the plasmatic screen. As the information base runs deeper and denser, it supports power, privilege, control and surveillance, and the transmission of our lives in code. It also harbours visions of ourselves in and of the world we are creating. It's time to find our what kind of a world that is.
Welcome to the post-person, the automated twitter tweaking, squawking, texting the void, suppliant of that improbable superiority voiced by AT&T's Crystal, homogenized omnicaster of ubiquitous scripts, quirky--or is that qwerty' with her accidental chirps. Post the personal world of the writer and reader, the self-admitting and admiring ego, subsumed in excess. No choice but to sink or swim, says Gitlin (2007), surfing the rapids of the media torrent. Then watch as the personal world is reconstructed from the detritus of the infosphere, composited in navigational behaviours that leave residual traces upon the death bed of signification, in data bases and memory banks through which Alph the polluted electronic river runs in our multicellular circuitries measureless to pre-automated man. If digital plenty be the food of thought and panacea to the post-modern paroxysms of meaning, there is a layer of excrescences upon it's surface, obliterating our world of knowledge and the certainty of authorship, legitimacy, epistemology, catalogues of the known. Texts, whether visual, typographic or sonic, are so plentiful we may struggle to find the valuable information in which to plant our ideas, where we may intelligently roam and busy ourselves with learning. Were it not for the ability to obliterate texts from conscious attention, we would find ourselves buried. Luckily, humans appear to be adapting quickly, and with our acquisition of basic literacies, we acquire a new skill that I have chosen to refer to as obliteracy–that is, the ability to make the apparent texts transparent to varying degrees. We disregard more assiduously than we attend to the bulk of everyday discourse. It's no longer a choice.
Sustainability: an overused word, a bell (weather) ringing us from the current zeitgeist. It is for slick-politic talk of environments, albeit physical environments exclusively. But sustainability also uncomfortably maps onto the infosphere under guise of literacy practices; again, it is about how we humans use, dispose of, and waste resources. And rather than a politics of preservation we witness a poetics of what language does best--regeneration. Thus sustainability of the information environment is process oriented--it is byte-sized praxis. A healthy infosphere, like its biotic corollary, supports diversity. It is also highly dependent on DECAY!, on degenerative cycles (to invoke alchemical wisdom) for fecundity of expression and cultural life. (Notice how online images never age? What does that mean for cultural psychels?) As with any natural phenomenon, the infosphere is vulnerable: we have reason to fear, with modern surveillance and automated text industries, the global heating of our information environment, and GMO (General Modus Operandi) monocrop acculturation, where all diversity is made scarce under the deluge toxic industrial media waste (e.g. unsolicited, commercially motivated textual excess); And here sustainability of the information environment is dependent on practices that convert waste into cognitive nutrient, to replenish the information environment too, to turn the information soil, to sample, cut up, remix, mash, extrapolate, mutate, and otherwise recode the digital com/post. If we wish to nurture this infosphere, we must liberate, even inculcate, activities that bring about informational regeneration, produce experimental strains of text, hardy and resilient meaning-engines that are recombinant, fertile, that can utilize the wasted resources that debilitate attention, com/posting information strewn in cyberspace like so much detritus in the wayward garden of public expression.
The condition of the information environment and the effect of bulk dumping of informational waste in systems of personal communications have far reaching implications for the literate being. As such, the entire monstrosity of contemporary education is implicated, not only learning but also teaching styles across curriculum of life. As a teacher educator, I am intrigued to know how digital generations will perceive and participate in their textual environments, to what degree the conductors of their thinking will commiserate with poets or profits. How is such a world to be made sustainable? In contrast to sustainable environments of digital communication, we find cyberspace filled with junk, spam, digital weaponry, identity theft and copyrights and the ever-elusive automated perpetrators of cybercrime. How do we anchor our work as learners, writers, artists and teachers within this environment, so crucial now from a public point of view, the evolution of digital literacies from clandestine activity to mainstream habit and habitat.
Excess information articulates with distracting force at the hinge of sense. It is infrequently given conscious attention, certainly no scholarly research addresses the topic. The pirate and the netbot are personified functions within the practices of navigating information. These functions are aesthetic and play a key role in the economy of attention that supplies our cultural currency. Paying attention to background information as a way of rapidly assessing the value of current foreground information, i.e. navigational style, is a complex, tacit survival function within contemporary, information saturated virtual life. I hold that all information carries with it a catalytic energy, no matter how insignificant it seems at the time. The residue of excess information, its reverberations if you will, add character to the gleaning of meaning. It offsets importance.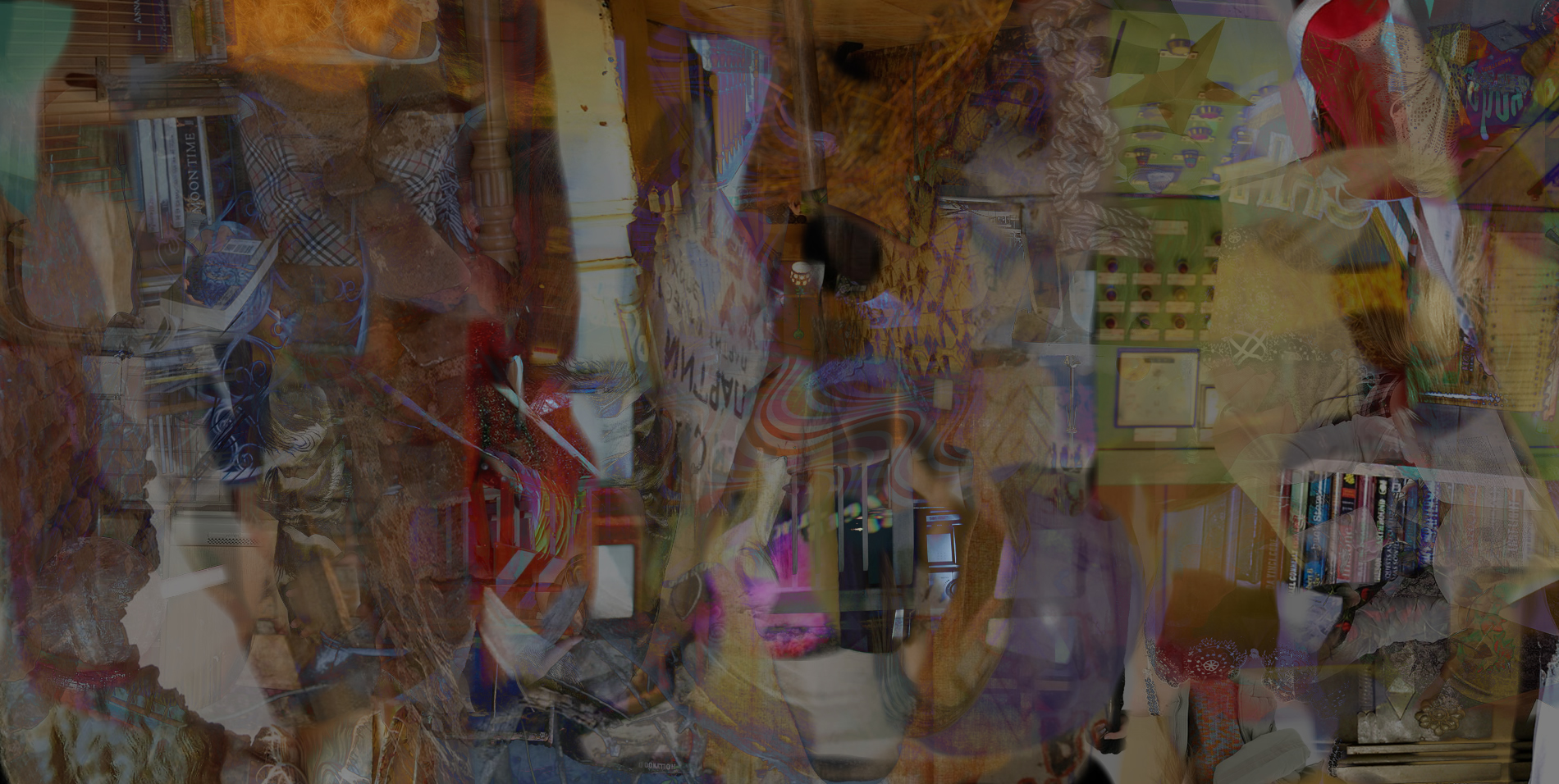 The images incorporated here were generated using a research method that combines these poetic, piratical, and automated functions to assess residual composite energies. A key method applied in this research is poetic cut-up, an analytic process that digests the excess in order to refine energetic meaning-potentials of given texts and queries. Selecting the background text of spam messages as a data source, many digital poets have processed text-waste into personalized poems. One can see the same process might be applied not only to words and images, but also to net sounds. Ah, the crashing cache collapsing into art, imploding, giving off patters of heart, patinas of revelation, provoking pattern's insipient sense. One part of my research works entirely with how excess also affects sonic cultural practices. My sonic research has for the past three years been conducted with Donald Klassen, at Clarke Drive Studios in Vancouver, and is covered in more detail at disciplineofchaos.com. Using text, image, and sound, I attempt to apply the practice of information recycling and waste management. The goal is to learn about how learning is being reinvented by life online. Here's another image I've created using this method. All these images compress between 60-243 images, searched for by a bot, stolen by a pirate, obliterated, arranged and composited by a poet.
The visuals, audio tracks, and poems are worthy of putting foreground as far as my research goes, partly because they belong to the commons. I author or co-author them only with the help of others, who will never know. So I put them back out, take freely, don't use as is without my permission, but by all means, create your own, conduct you own studies. This is at the basis of the commons, as a gift economy, and the cultural, creative commons, as an attention economy. If we hone these practices, and make them stable traditions, we can protect these information environments, and enhance them to the benefit and leaning of all. And because the creative commons, on and off line, are so important to all learning, from primary to graduate education, it's time to start taking these kinds of practices seriously. The secret to the learning involved is not only how to glean, but how to register value among the gleaned. Indeed, it is a shadow-play of transparencies and serendipitous registrations of value.
For example, consider how much information has already gone by. It's a lot to fit in. So only some portion, that which perhaps comes closest to your interests, sticks with you. As you consider it, some things will change from foreground to background memory. Much like the way the images (or the poems and "songs") work. For some viewers and audience this is frustrating at first. We might find this shifting of meaning potential more offensive in one format or another. Perhaps the images are nice, but the sounds are grating and the poems are confusing. This, I feel, has less to do with aesthetic than learning style. Each sense carries it own tolerances to newness, its own reluctance in the face of unfamiliarity. What is not known often causes revulsion, a very basic and embodied experience. We teachers teach the patterns in information to help our students overcome the retreat from the unknown and encourage them to explore in those realms. Where we go, and get to, has a lot to do with the person we become. NEXT